Certificate of Excellence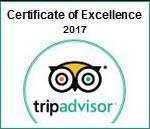 Icicles Adventure Treks Tours (P.) Ltd is a locally based, licensed tourism & travel agency dedicated to providing high-quality tailored-made trekking and tour services to our valuable clients at a competitive price value.
By doing so, we have been proudly presented with the Certificate of Excellence from Trip Advisor for the years 2017, 2018, and 2019. This reflects the satisfactory hard work performed by our highly dedicated, knowledgeable, and experienced team. On top of that, our team members take great pride in providing unparalleled qualified and professional services to our clients. Not just that but we also try to understand and recognize our client's needs and interests so that our clients get exactly what they wished for each & every time they travel with us. That's the open secret behind the admiration we receive from our beloved clients and one of the reasons for being awarded the 'eminent honor' twice in a row.
Adding to that, we strive to improve the effectiveness and excellence of our services by reviewing all of our previously accomplished tours. Our team looks forward to working closely with our clients to customize their perfect tour and give them a unique experience filled with many unforgettable memories.