Is Annapurna Circuit Trek still worth trying after Road Constructions?
Annapurna Circuit has always been considered one of the most extended and diverse treks, with Thorang Pass as one of the most challenging heights to ascend. AC consists of mixed topography, Tibetan-Nepali culture, temple and monasteries, and the best view of the Annapurna Range and other peaks, along with alluring challenges.
However, the road access all the way to Manang and even to Muktinath has made every trekker question if Annapurna Circuit Trek is still worth it, and the answer is yes!
Although few fellow trekkers would regard the Annapurna Circuit Trek as stuffy and unsatisfying compared to before, you might find these comments frivolous as you connect with us to learn why it will still not affect your trek.
New Annapurna Trekking Trails (NATT)
The first problem we hear from the previous trekkers is the busy roads, loud honking, and dust flying around as the vehicles pass by. Especially the western part of the trek has been affected immensely because of the road construction. However, we must know that the complaints regarding these issues are only from the trekkers who chose the main trails throughout their trek where vehicles pass by.
The Nepalese government has been working for years in partnership with the Annapurna Conservation Area Project to bring many alternative routes called New Annapurna Trekking Trials (NATT). When using NATT, you can easily identify the New Annapurna Trekking Trails, marked with blue/white or red/white paint, taking you away from the vehicles and noises.
One of the alternative trails for the trekkers has been a detour towards Jomsom, avoiding the vehicles and the engine noises in Muktinath as they descend through the Thorang La High Pass. On this trail, you will pass through Lupra village, a Thakali village, and reconnect to the usual trail at Puchhardhun.
With these NATT, you can almost avoid most busy roads and travel through forests, villages, and so on.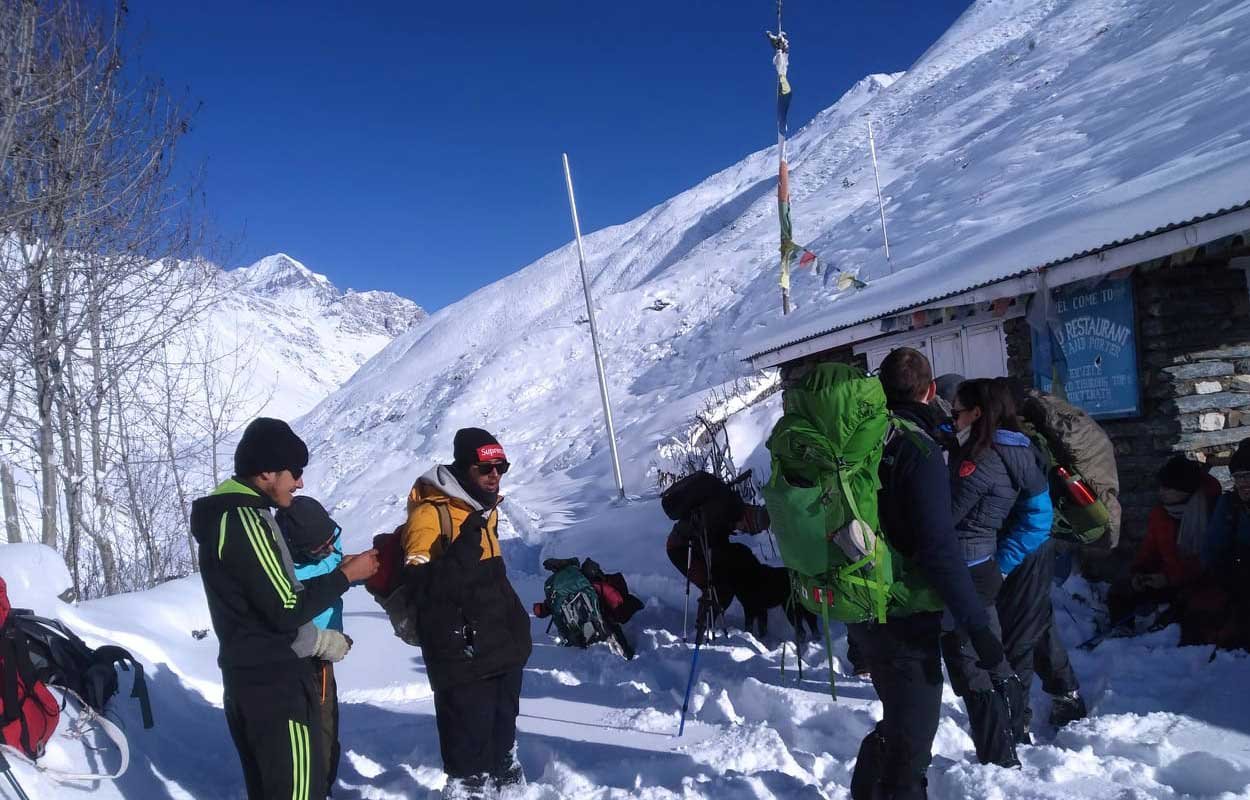 An option to shorten your Trek
The trek usually starts from Besi Sahar, from where you can enjoy the changing climate, altitude, and landscape each passing day. Starting from this point usually takes 21-24 days to finish the trail excluding the days you might choose to customize your walks or rest when you get sick.
However, in these three weeks of trekking, the trekkers now have various options, with road access to Manang. You can customize your trek according to the days you find fit for yourself!
To begin with, instead of starting your trek from Besi Sahar, you can generally ride in Jeep a few kilometers further up to Thorang and shorten your trek.
The most popular start point has been Besi Sahar itself (96.5km to Manang), Bhulbhule (81.6 km to Manang), Syange (67.3 km to Manang), Jagat (62.6 km to Manang), and Dharapani (81.1 km to Manang). After crossing the Thorong Pass, another option is a flight to Pokhara from Jomsom, ending your trek, or a ride from Jomsom to Tatopani until the endpoint, i.e., Naya Pul.
Transportation will always be there; however, professionals recommend shortening your vehicle transportation as the roads are not always smooth and easy. You might also get altitude sickness, causing you to return and ruining your trekking plans. Plus, you might miss many parts that make the Annapurna Circuit trek worthwhile, including beautiful villages, nature, monasteries, and temples.
The never-changing beauty
During the trek, you will find the roads and routes new or disturbing sometimes. Still, the time feels frozen as you pass by anything and everything you see on your way. This may include:
walking through the river valleys (Gandaki and Marshyangdi),
ascending and descending the famous Thorung Pass,
catching site of one of the rarest flowers found only in Nepal, Rhododendrons,
having a spectacular view of the Annapurna Himalaya Range and other peaks
experiencing the natural hot water springs of Tatopani,
Poon Hill panorama views,
Furthermore, the vehicles are rare in most main trials, even after road construction. So despite minor changes compared to the past, the real fun of this trek remains the same, as if it is stuck in that one time, making your trek worthwhile.
These are nothing but a few points among the many factors that might remind you to come back for this trek again and again.
One of the few Trek with Diverse Scenery
The Annapurna Circuit is breathtakingly diverse, and this is rare! You will pass through deep gorges, rivers, lakes, glaciers, and snow-capped peaks while enjoying the various cultures within Gurung, Manangi, and Thakali villages.
As you hike through Besi Sahar, you will find Paddy fields and enjoy greenery till you reach Pisang. You might even have an opportunity to trek through the forest area while enjoying the floras and fauna.
From Pisang, you will gradually find a change in topography hiking up to Manang, with a little drier environment.
As you go to Ledar from Manang, you will climb an altitude of 4000m already and find yourself in Alpine geology. Meanwhile, as you go through the Thorang Pass, you will lack oxygen and suffer altitude sickness without acclamation at Thorang high camp.
And from Rani-pauwa, you will find yourself on an almost desert-like trail of the trans-Himalayan landscape.
Moreover, the weather is unpredictable. This will make your trek more dangerous but fun at the same time.
With every community, too, you will find a new lifestyle customized to their traditions and the environment. So, for example, you might see differences in the villages with Chettries in contrast to the ones of Thakalis and Manangis. Basically, you will find yourself experiencing almost every topology, culture, lifestyle, and more.
Once in a lifetime to experience the Villages and their Culture First-hand
If not for the trek, many trekkers still have considered repeating the Annapurna Circuit only for the hospitable and unique people living there.
The day-to-day life, celebrations, and cultures you see there are one of a kind; you will never get to enjoy them the same way back in your country or even in other parts of Nepal.
With the most hospitable environment within the authentic local villages, you will have an opportunity to experience the Himalayan way of living and understand and enjoy the traditional values of different communities within Nepal.
In addition, you can view diversity within the trek from a cultural point of view while passing through the villages of Thakalis, Magars, Brahmins, and Chhetris.
You even get a warm welcome to join the festivals they celebrate if you can travel your trek during that time. Perhaps, you could end up settling down in one of the villages because of their aromatic foods, pleasant people, and their lifestyle.
If you can, please travel through the upper village to view a magical place that has remained innocent and unhinged throughout the years of modernization in your city.
Religious Sites and Architectures at every Stop!
You can always explore outside the main trial passing through monasteries, villages, and temples, causing a rush of excitement of the never-ending discoveries. From the early point of the trek, Dharapani, you can find monasteries with paintings and statues worth detouring. For this simple yet alluring reason, the knowledgeable trekkers would skip the main roads and roam villages to find hidden gems.
As you continue your trek, you will find different architectures, like tumbled-down houses in Kagbeni, quaint stoned houses in Tukuche, or even classic houses with old craved window frames in the village of Dana. The unique architecture of villages, including monasteries and temples, will leave you observing every detail in awe.
As you hike daily, you will find places like the Bon monastery of Naurikot, with strange yet beautiful imagery. Or the Jwalamai temple, known for its eternal flame with springs and natural gas jets.
The world recalls the Annapurna Circuit as a "living trail." Still, the one who has already completed this trek knows that the cultural landscape is just as spectacular as the natural one.
Alternative treks
While it is exciting to walk through the trials of Annapurna Circuit, it also provides many alternative trails to other places with little to no road access. These alternative treks will add adventure and more fun to your trek extending your memories to the paths you didn't even plan for the AC before.
Some of the famous alternative trails among trekker has been:
Gorepani -Punhill or Ghandruk from Tatopani descending to Pokhara,
combining your Annapurna Circuit Trek with ABC (Annapurna Base Camp),
Naar-Phu Trek from Chame,
Panchase Trek from Nayapul, etc.
Most of these alternatives are worthwhile in each visit, as they introduce you to a newer part of the trail you did not see before.
Insider Guide to your Trek
Another thing you need to consider is that, as you pass through the villages, the locals will still help you with the routes as they are more familiar with them.
"With your backpack, they will know that you are asking for the way," as the trekkers share their experience online. This means you don't have to worry about the language barrier.
In short, choosing locals to guide your way will make your trek more adventurous with the trails you might not even have considered trying. Furthermore, the tales, unheard stories, and experiences of the locals within the Annapurna Circuit will provide you with a lifetime of knowledge and expertise that only a few will perceive.
In conclusion, the trek is not entirely ruined by road construction, as most people claim. The trek is still beautiful and delightful, making you want to visit again and again. Furthermore, if you request your porters or guide (if you have one) to avoid the main trials, you enjoy the trek with little to no vehicles. Thus, reconsidering Annapurna Circuit should not be one of your primary concerns only because of the road cons.
Perhaps, what the road construction has done the most is have the availability for more people to enjoy or, as it happens, explore the new alternative trails, even for the previous trekkers of AC.