Useful Guide For First Time Nepal Travelers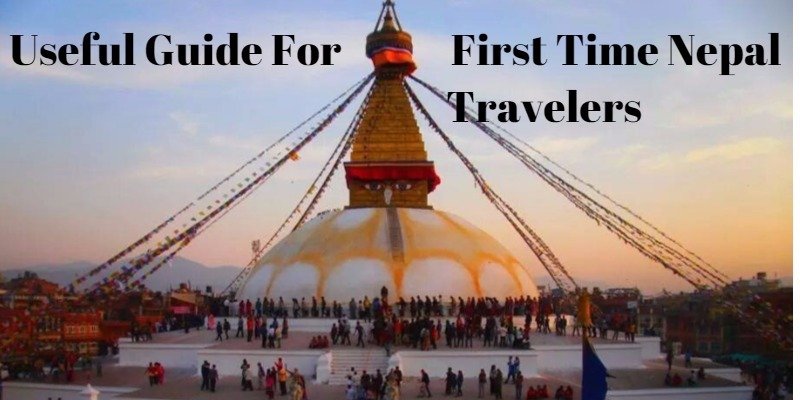 Visiting Nepal for the first time? Have you ever heard about traveling to Nepal for tours, treks, and Himalayan adventures? Well, if you haven't, then Nepal is a geographically small country, however well-diversified and rich in nature, culture, and adventure. If you are traveling to Nepal for the first time, then there might be many queries. In response to answering your queries here, I have prepared some useful guides for first-time Nepal travelers.
Booking your Nepal Trips
Your Trip Organizing Company could be the deciding factor in either making or breaking your trip. Therefore it is essential to choose your travel planner wisely. Here we have the top 5 reasons to go with a local trekking company in Nepal.
Useful Nepali Language
Knowing few local languages can come in handy. Speaking few words with locals will not only bring you closer to them, but it also creates a bond and helps you stand out from others.
We have translated a few Nepali words and phrases commonly used while trekking, tours, etc. as follows:
'Namaste': Hello
'Chocolate khaane?': Do you want to have chocolates?
'Jam Jam': let's go now
'Tyo himal ko naam k ho?': What is the name of that peak?
'Yesko kati parchha?': What is its price?
'Nepali shawls kaha paaincha?: Where can I buy Nepali shawls?
'Thakai laagyo, ekchhin basum': I am tired. Let's stay here for a while.
'Haitt!': Oh no!
'Dhanyabad': Thank you
Safety Tips
From getting travel insurance for high altitude treks to buying a face mask in Kathmandu to avoid air pollution and being well informed about altitude sickness, safety should always be your number one priority. Basically, Nepal is a safe country to travel to. Diversified people from hundreds of ethnic groups from numerous religious backgrounds live peacefully unified as single Nepali citizens. On the other hand, even though being severely affected by natural disasters like the 2015 earthquake, Nepal is now a safe destination for all travelers.
Watch out for the best time to go, have proper information on things to do and avoid, always ask for safety tips from your trip planner before joining in. Here we have few safety tips for trekking in Nepal.
How to Cross Streets at Kathmandu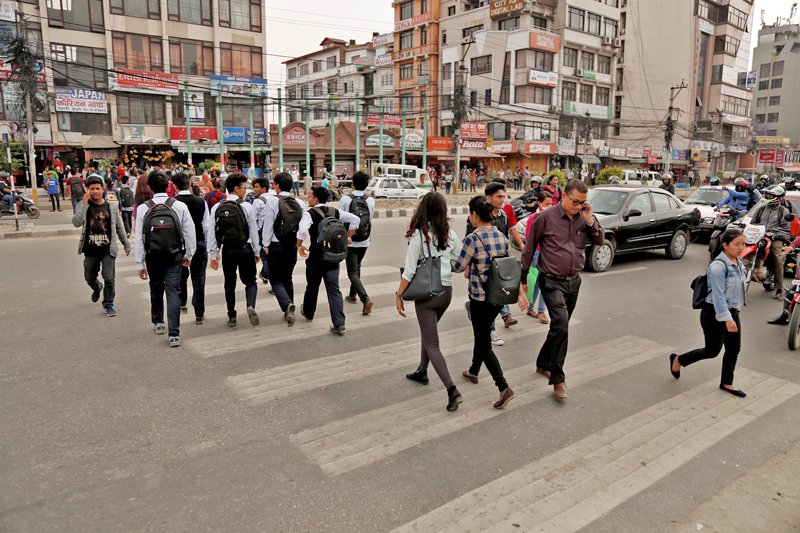 Always use zebra crossing an overhead bridge (wherever available) to cross the streets, be defensive, and look at both sides of streets while crossing a road. The streets of Kathmandu are filled with plenty of bikes, cars, buses, and trucks, along with cows, dogs, cats, and any possible other things. Therefore we must acknowledge that streets are filled with idiots; we must try not to be one of them.
Another useful tip would be crossing the road when local people cross. Simply following them can be a wise thing to do if you don't see zebra crossing or overhead bridge nearby. Also, we would like you to read this article to know how to reach Thamel from Kathmandu airport.
Best Time to Visit Swayambhunath, Boudhanath, and Pashupatinath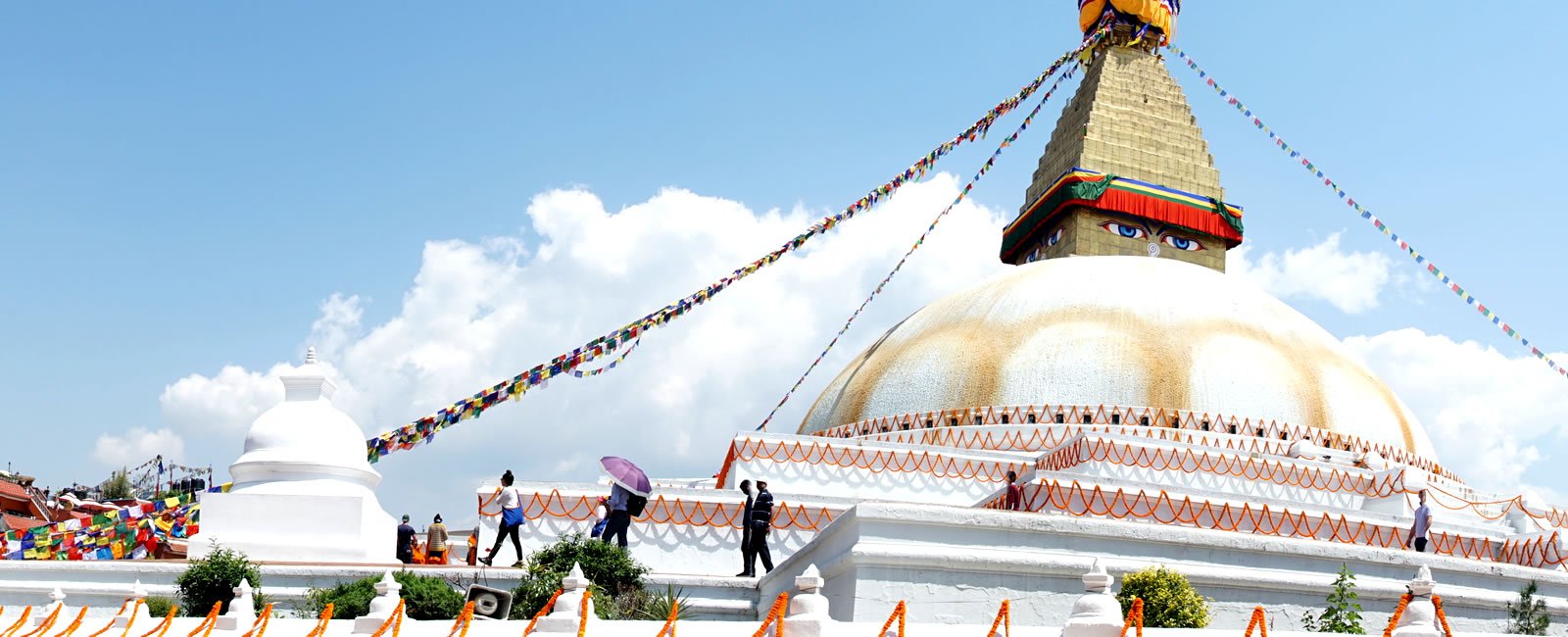 Swayambhunath is also known as Monkey temple, which gives awesome sunrise views overlooking the city and fewer crowds than other timings. So, the best time to visit Swayambhunath is early in the morning for fresh air, nice views, and understand the local lifestyle avoiding the crowd. It is a popular morning walk site for local inhabitants, and you can see many people exercising, jogging, street vendors, tea shops, Lamas circuiting the stupa, and of course, monkeys hanging around here and there.
Later, we suggest you visit Boudhanath at dusk right before sunset to see the awesome serene view of the largest Boudhanath Stupa. Then, after taking a short drive to nearby Pashupatinath temple, see evening prayers with light at Pashupatinath. Or else, you can first visit the Pashupatinath area as it is a large space, visit nearby forests, temples, observe cremation sites and give a visit to Boudhanath Stupa to see colorful decorated lights enjoying nice meals at one of many standard restaurants around.
Try Dumplings, Dal Bhat, and Many more.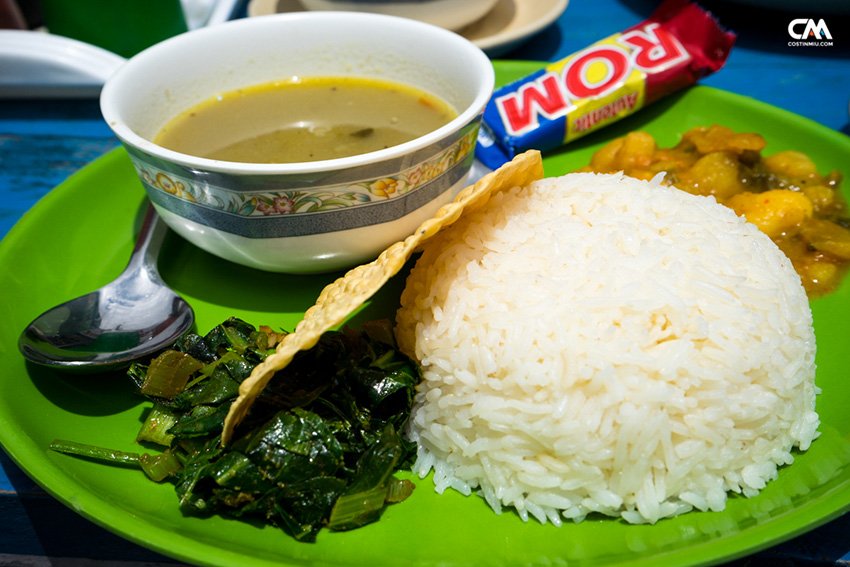 When you are new to any foreign country, it gives you a chance to taste new food, dishes, and delicacies otherwise you would never hear of. The most common food in Nepal is Dal Bhat Tarkari which is basically rice, lentil soup with vegetables, and other extras. Almost all Nepali have this food twice a day, proving the popular saying ' Dal Bhat power 24 hours'.
Another popular food is momos, or dumplings varieties of which available at almost every restaurant in Nepal. If you are in Kathmandu, ask your local guide or trip organizer to take you to a local Newari restaurant. Newars are local inhabitants of the capital city, similarly Sherpas at Everest region and Gurung/Magars at Annapurna. What we suggest is that at least try some local dish that you had never had before. One popular food blog or video magazine is MS Vmag Hunger Hunt that might help you get more detailed info on food/ popular restaurants mostly around Kathmandu valley.
Don't miss Pokhara
If you are planning for the Annapurna region treks, then Pokhara might be already on your itinerary. However, spending few extra days at Pokhara is always highly recommended regardless of any trip you choose and any time you come. From beautiful Annapurna Himalayas like Machhapuchre, Dhaulagiri, Nilgiri close to enjoy lakeside activities and visit major attractions from caves, temples, museums, waterfalls, stupas, and popular viewpoint of Sarangkot for sunrise. Moreover, at least plan two days at Pokhara if you are interested in other adventurous activities like paragliding, bungee jumping, zip flying, rafting, etc.
Understanding the Art of Giving it Back
You will be the happiest person if you know the art of giving it back. Giving it back here refers to giving the feel of happiness back to those who made you happy. In other words, contributing to the locals by buying locally produced goods as souvenirs, tipping is not mandatory; however, it is expected and a good way to support the local economy that helps in creating employment opportunities.
Therefore, with the hope that you find these travel tips useful, if you have any other queries or curiosity about visiting Nepal, then don't hesitate to ask by simply commenting on the box below.